For over six weeks Ukrainians, led by the brave and seemingly tireless Zelenskiy, have been fighting to protect their homeland from an evil and brutal invasion. And even as they have fought in defence of their country, they have negotiated too, working and hoping for a political compromise which allows them autonomy and freedom to choose their own way of life.
There are no words for the horror, ugliness, and violence of war. Every night we have watched the news on television, every morning read the newspapers. War is death, injury and mutilation, homelessness, hunger and degradation, fear of an ever-present threat. Part of a privileged generation in a privileged country who have not known war in our lifetimes I cannot claim to empathise, to know anything of the feelings of those who have fled or the fears of those who remain. I can feel only shame for our own government's failure to welcome refugees.
In happier times I travelled around Ukraine on the Ukrainian railways. Then the distinctive blue trains with their yellow stripe provided a comfortable intercity sleeper service for tourists like me, and the carriage guards greeted us with tea in the mornings. In recent weeks, those trains have been involved in a massive evacuation programme, carrying as many as 200,000 people a day, two million in the first two weeks of the war alone, to the west of the country, returning packed with humanitarian aid.
When my train took me to Lviv I visited the Lychakivske cemetery  where I found Ivan Franko (1856-1916), nationalist poet, journalist, activist, and reformer, he was a co-founder of the Ruthenian-Ukrainian Radical Party in 1889. On his grave a massive sculpture of a  stonecutter "crushing the granite wall" references his poem Kamenyari, The Stonebreakers, an allegory of the Ukrainian struggle for liberation from her oppressive past under the Polish, Russian and Austro-Hungarian Empires. For foreign oppression is not new to Ukraine. In the 1340s the Grand Duchy of Lithuania and The Kingdom of Poland split the country between them. As the power of Lithuania declined, Poland tightened her hold until a challenge by Russia in the seventeenth century subjugated Kyiv and Northern Ukraine, while  the Poles remained in the West. In the eighteenth century  the Austro-Hungarian and Russian Empires carved up Poland between them and the Austrian Hapsburgs  annexed Lviv and the West. Against this background of colonisation and foreign dominance, Ivan Franko took a leading part in the rise of Ukrainian nationalism in the nineteenth century. The collapse of the Austro-Hungarian Empire and the turmoil of the Russian Revolution allowed Ukraine a very brief period of independence after the First World War, but the Polish-Ukrainian war (1918-1919) effected a return to Polish ascendancy in the West, while the Polish- Soviet war (1918-1921) precipitated the incorporation  of most of Ukraine into the Soviet Union. Occupied at separate times in the Second World War by the Nazis and the Soviets, Ukraine emerged under Soviet domination. At last, with the dissolution of the Soviet Union, Ukraine obtained a fragile independence in 1991, until on 24 February this year a new Russian invasion brought war.
In the same cemetery as Franko l discovered Maria Konopnika, (1842-1910), Polish poet, novelist, translator, advocate of women's rights and Polish independence from Prussia and Russia, and the flowers were piled as high on her grave as they were on Franko's. Even more surprisingly I stumbled upon the burial ground of the Polish Eaglets, young Polish volunteers who "defended" Lviv in the Polish-Ukrainian War. Polish workers began the restoration of this cemetery within a cemetery, which had been used as a truck depot after World War Two, in the late eighties, and following Polish support for Ukraine's Orange Revolution in 2004, it officially reopened in a joint Polish-Ukrainian ceremony in 2005. And today it is the old enemy, Poland, which has opened its borders and whose people have welcomed more than two million refugees.
In the last week, the war in Ukraine has taken on ever darker and more evil tones, Russian forces sinking to new depths attacking civilian targets including schools and hospitals, and from Bucha footage has emerged of civilians who have been shot with their hands tied behind their backs. A Russian missile strike on a crowded railway station in Kramatorsk, where four thousand people were waiting to board the trains which would evacuate them to safety, killed over fifty people and injured more than a hundred. In the face of these war crimes the possibility of any reconciliation between Ukrainians and Russians seems a naïve and absurd hope. I know how easily in those circumstances I could soon burn with indiscriminate hatred for Russians, and who can fail to understand any Ukrainian who feels that way.
And yet many brave Russians although fully aware of the consequences for themselves have dared to oppose their government's war: Marina Ovsyannikova who held up signs during a state TV news broadcast reading "Don't believe the propaganda," and "Russians Against the War", was arrested and detained by riot police . Others have had their homes vandalised and lost their jobs for signing petitions against the war. Anti-war protests have been criminalised, and even referring to the attack on Ukraine as war or invasion, carries the threat of fifteen years in prison. Protestors have responded by holding up blank sheets of paper, placards reading "two words" or bearing eloquent asterisks. Blue and yellow flowers materialize at war memorials and anti-war graffiti appear. Tens of thousands, described by Putin as traitors and enemies of the state, have left Russia and now gather at protests around the world, and independent Russian journalists are working in Ukraine to break the Kremlin's stranglehold on information; one of them, Oksana Baulina, was killed by a Russian missile in Kyiv while filming damage in the city from an earlier attack.
Franko's poem spoke not just of smashing through rock with sledgehammers but also of building a strong dwelling and a new life. The determined courage of the Ukrainians, the generosity of the Poles, the bravery of Russians who stand up to their government, and the well-tended graves in the Lychakivske Cemetery foster hope even in the darkest of times that there will come a day when the war is over and Ukraine is free again, and the blue trains with their yellow stripe carry only carefree holiday makers, when old hatreds while not forgotten are forged into new friendships, and a new memorial may find a place alongside Franko, Konopnika, and the Polish Eaglets, remembering those Russians who stood with Ukraine.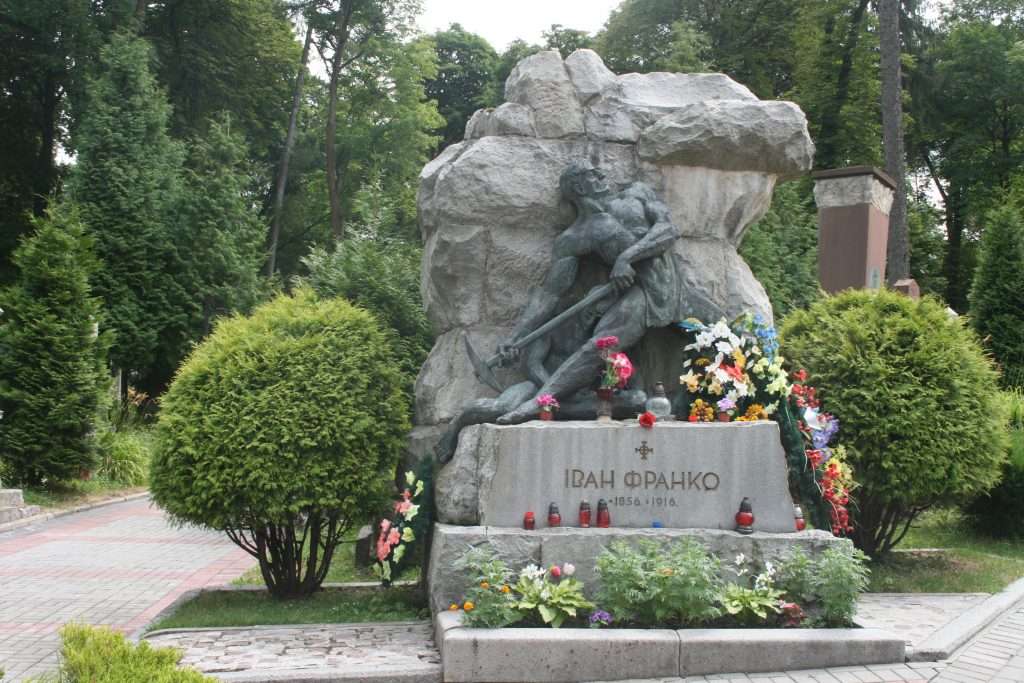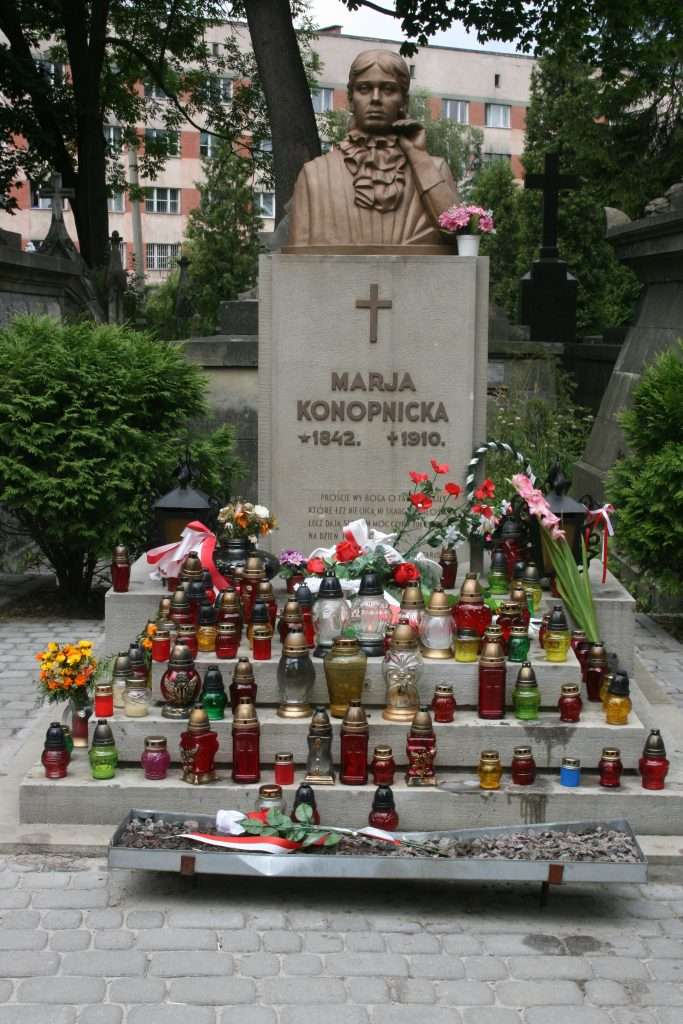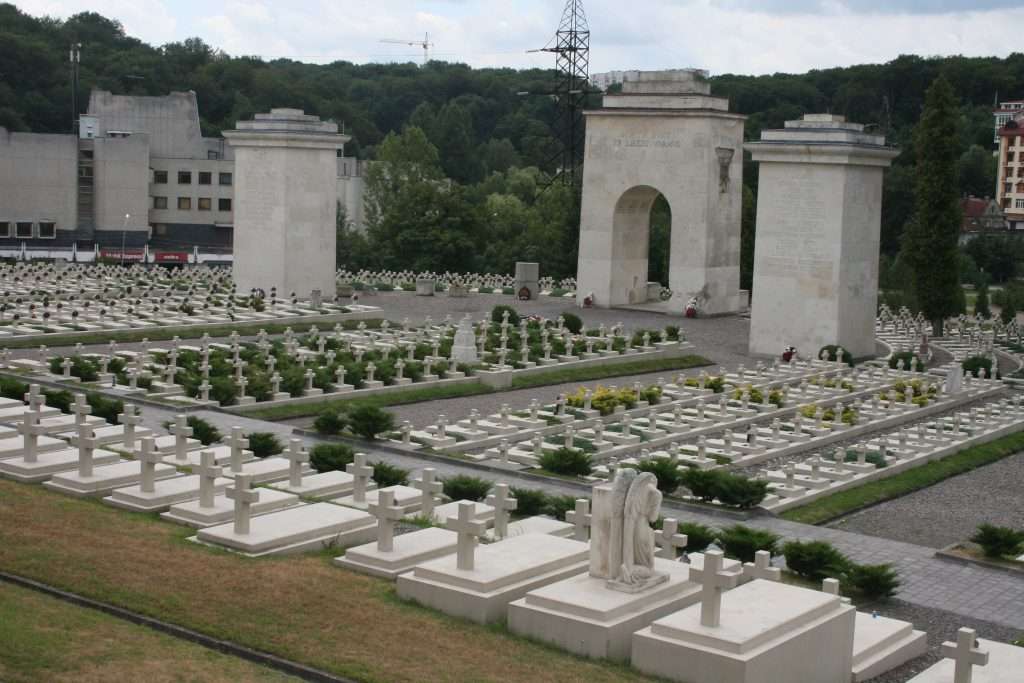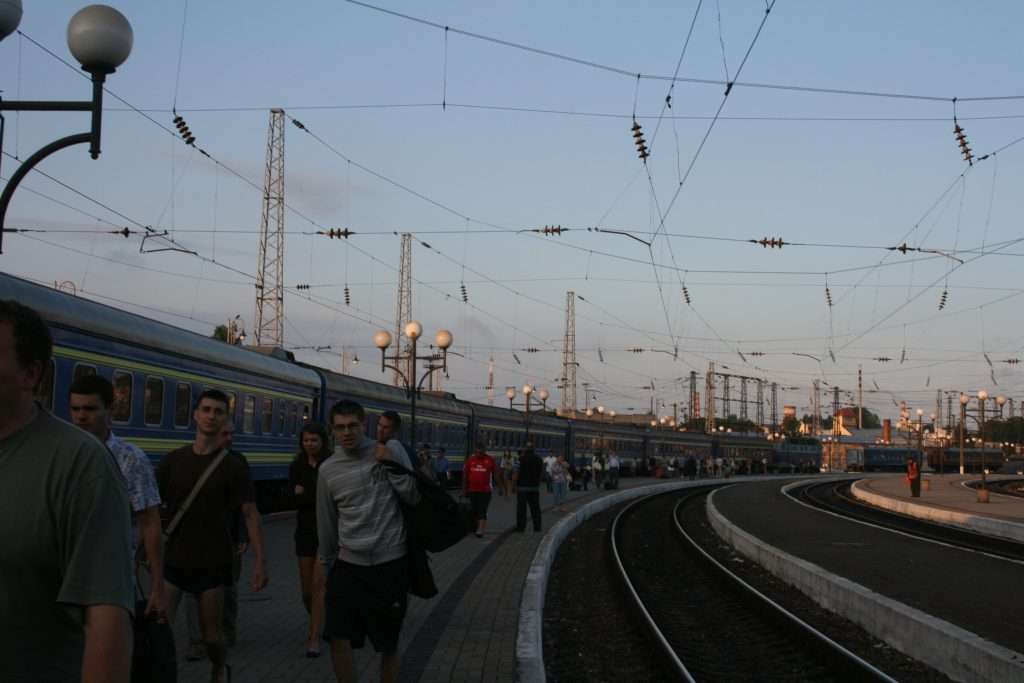 6.30am Lviv station in happier times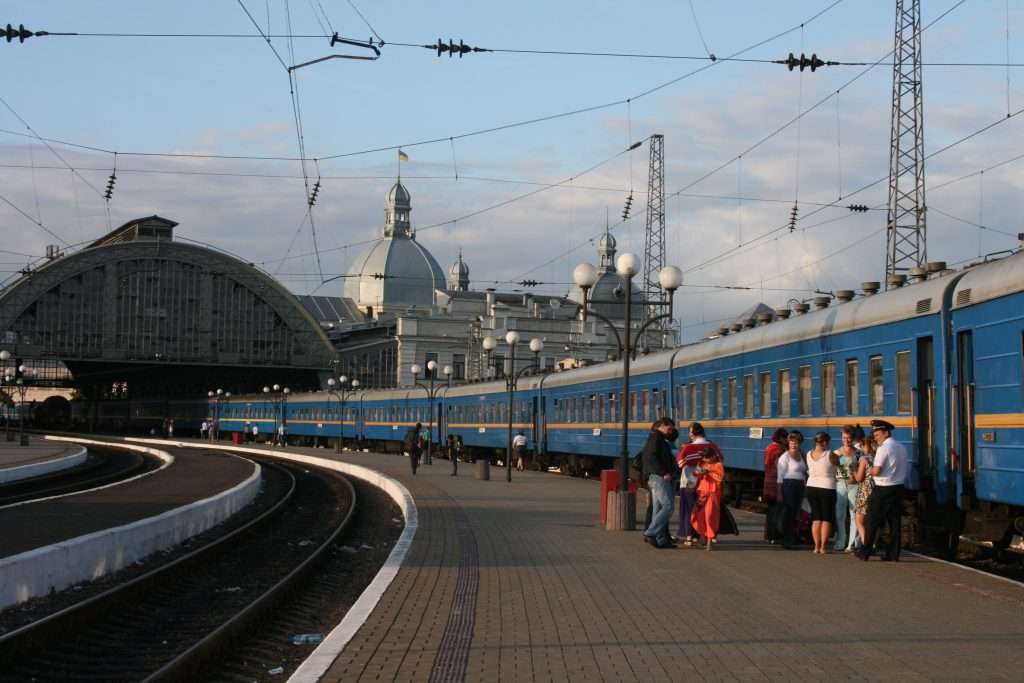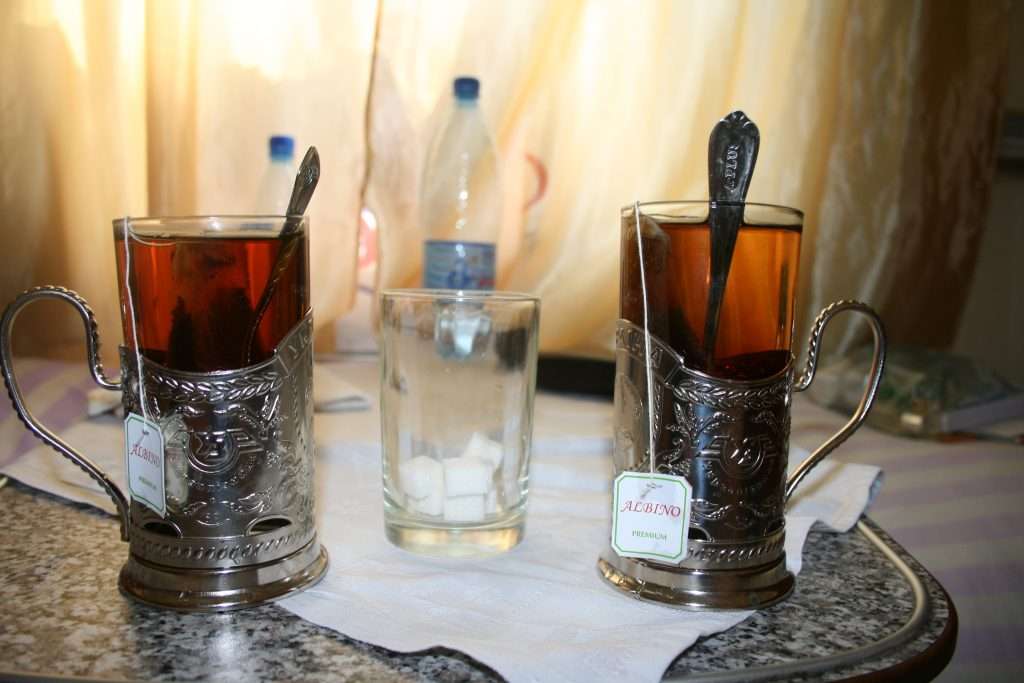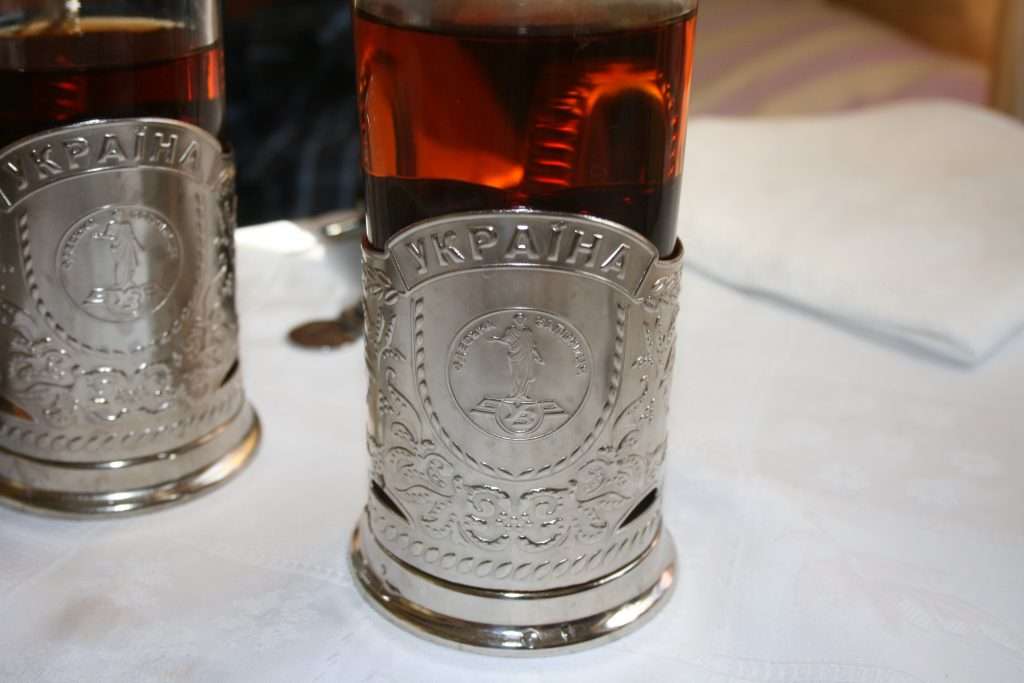 Slava Ukraini